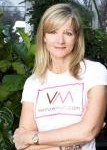 As 2012 begins, I'm hearing from you, my followers, that you have a sense of wanting to break free. Many of you have pent up energy and are ready to stretch your legs. Time to shake off the shackles of "the new year blues."
I'm feeling the same way and have had a hard time getting off of the starting blocks myself. But when I feel that way, I go back to what I enjoy. For me, and the reason that I started VentureMom, it's discovering a new venture for someone. When I have a conversation with a woman about where she is in her life, her need to start something new and about what kind of venture she'd like to develop – my mind starts to race. A short time into our talk, I've hit on something she currently does or something she loves to do and helped her create the start of a venture.
This is what energizes me. So in this new year, I want to do more venture development. Considering myself a venture detective, my friends say I can come up with a great business model in a flash. I'm not a business coach, I help women figure out what they want to do. There are lots of materials on how to start a business but figuring out what you want to do – that's priceless.
To that end, I'm putting my One on One VentureHour front and center for 2012 and including my 12 Weeks from Mom to VentureMom for everyone who completes a VentureHour.
By refocusing on what I love to do and what energizes me, I'm ready to start the new year off with a bang and hopefully help you do the same.