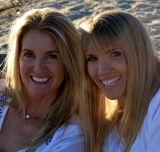 Who knew they could launch a business while running together. Both Tara and Michelle have backgrounds in fashion on 7th Avenue in New York CIty but kids pulled them out of their careers for a while. They had always said that when they got their first child off to college they would lay the groundwork for a venture that would be their focus as their kids grew and left home.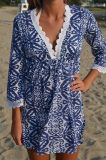 Both avid runners, Michelle organized a group that meets 3 -4 times a week for a 5 – 10 mile run. They've even run marathons and logging all these miles together gave them lots of time to talk and plan a business. They decided to focus on a product that brings to mind fun and relaxation. And they were motivated by the fact that they weren't able to find a beach cover up that looked great, was priced well, and above all, fit well. Their own needs as well as their love for the beach, inspired their line of cover ups and sarongs.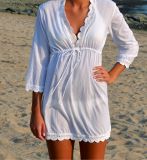 Michelle says, "When I worked for Ellie Tahari, his main focus was on fit, so that was instilled in me as a top priority for our cover ups." Tara says, "We wanted something that was flattering and could be worn from the beach to the street." Now they needed a name and logo. Combining their names, they got great feedback from a fellow entrepreneur, and Tara Michelle was born. For their label and logo, they used colors that reminded them of the beach – turquoise and coral – and added a mermaid.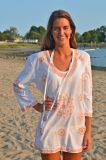 Then the research on production began in earnest. Working with pattern makers, sourcing fabrics and trims, and finding a manufacturer for their designs was daunting. Through a lot of trial and error they finally found their sources and perfected their fit. They say, "It wasn't so glamorous; at one point we were trying on cover ups in the McDonalds bathroom on 7th Avenue," both laughing and saying they will remember how it all started.
Finally they had their samples. Tara's daughter had worked at a boutique with six stores in resort communities in the North East. Sending a photo of her daughter wearing the Tara Michelle tunic, Tara suggested a meeting. Driving to Boston for their first sample showing, the two women were not sure what to expect, but In The Pink gave them a large order for all six stores!!! This was their first sale – they were in the black and on their way.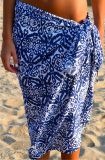 Hitting the road to show the line to other boutiques and doing trunk shows, they are getting orders everywhere and the two are working to build brand recognition and manage their growth. Right now, the distribution center is in Michelle's house, "We may have to get something larger but we want to watch our finances and only spend what we bring in."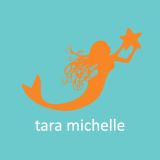 In January they will have a booth for Tara Michelle products at the Moda show, at the Javits Center, in New York City. Tara and Michelle hope to get orders from resorts and boutiques around the country. Their line includes solid and printed tunics, and sarongs with trim detailing, but they plan to expand to other products.
With 8 kids between them, it's been a family affair. The kids have helped with web site design, line sheet production, modeling, photography and tech support. "We love that our kids are involved, they've been a huge help."
Both women say, "This is not a hobby, this is a full time venture but since we're both mothers, we understand that family comes first." So how has it been getting validation so soon , "We felt strongly about our product vision and the early success has inspired us to work harder. "
Contact: taramichelleco@gmail.com, www.taramichelledesigns.com
Prices in the VentureMom Shop reflect 10% off. Use the coupon code "venturemom" on their website to get the same discount.
VentureMom Tip
When entering an already crowed space, focus on what is not available.