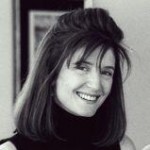 "I'm one of those people who has a wealth of information on a lot of things but no one to share it with."  Stacey Bewkes is an avid reader – everything from The Times to Italian Vogue – she can't find enough time in her day for all the interesting articles she looks to devour.  And then what to do with this abundance of information?  With a strong need to express herself, this mom decided to start a blog.  Not having the younger generation's tech savvy, she taught herself how to use WordPress and add photos and set about to put her musings on the web.
Deciding just this past August to start writing, she has a self imposed deadline to post every day during the week.  Stacey speaks to women looking for a point of view that addresses style and intellect.  Covering everything from a jewelry auction at Christie's, to the fashions of Milly, to the Levi's Photo Workshop, Stacey explores the finer things in life found in architecture, art, jewelry, clothing, and design.  In her posts, Stacy has fabulous photos of homes, interiors, artwork, clothing and jewelry complete with comments on the architects, designers and artisans.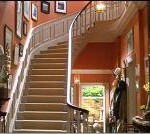 She says, "I think smart is sexy, great ideas deserve recognition and understated elegance is as good as it gets."  Not knowing where she would go with this, in a short time, she's built an audience.  She got an email from a reader saying, "Congratulations on being picked up by Dominique Browning."  Dominique Browning was the editor and chief of House and Garden and one of Stacey's heroes.  She didn't even realize Browning was reading her blog.  Browning wrote, "This is one of the three new blogs I read.  Stacey does the work of giving her readers history, background, and social or cultural grounding.  In other words, she makes a case for why something is wonderful; her blog achieves brains and beauty, one of my favorite combinations."
With 17 years as an Art Director at Simon and Schuster, Stacey left after her third child was born.  With a child out of college, one in college, one in high school and a 10 year old, she loves being able to share her thoughts on her own time.  Now that's shes blogging, she's hooked.  "It's all I want to do.  I barely have time to keep up the house."  Some days operating on only 5 hours of sleep, she races to get back to her computer.  Some blogs can take an hour; some can take weeks, when there is detailed research involved.  Her husband is baffled, "So what are you going to do with this and how will it make money?" Stacey doesn't know, but she knows she has to keep posting.
One of her favored recurring posts is titled Wish List.  She writes, "My first wish is to be a character in a Nancy Meyers film. How great would that be! Now I'm thinking more along the lines of: It's Complicated,Something's Gotta Give, or even Parent Trap. All the female leads are 5o something smart, attractive, witty and successful women who own their own creative businesses. They are independent, aesthetically fine tuned, have great relationships with their kids, and find great men in the end, although they've proven they can live perfectly well without them."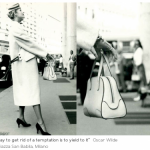 Stacey has several posts on the famed architect Gil Schafer complete with lovely photos to peruse.  She also provides links to other articles and writers that she enjoys.  One of her posts talks about how her thoughtful husband surprised Stacey on her birthday with a large leather office chair from Costco.  This Venus and Mars post is hysterical and speaks to all the wives whose husbands sometimes don't get it right when it comes to gifts.  Reading Quintessence is like sitting down for coffee with your best friend and having a great conversation about a cool idea for decorating with books, a fabulous handbag, a long time wish fulfilled, a great old movie to watch this weekend, a favored architect, a unique store or a current event. (I know I'm hooked.)
So where to take this new passion?  Stacey was recruited to be The Style Editor for the Women's Voices for Change web site.  Stacey feels luxury is on an upswing and everyone is interested in style, even in this current economy.  NBC Local Media, who is starting a regional lifestyle site, found her and she's going to be writing for them.  So Stacey has several assignments on her plate – non-paying however.  But it doesn't matter; all that matters to her is that she is getting read.
"Getting picked up gives me validation that readers are enjoying what I have to say.  I'd love to write for some other upscale publications or perhaps have an on line magazine that would be a cross between Town and County and House and Garden.  But that would take funding and staff.  Who knows though, look how far she's gotten in just three months by putting her thoughts together in a creative way and posting them.
Contact:  info@quintessenceblog.com
VentureMom Tip
When you feel something so strongly that you must express it, whether through writing, art or business, don't worry about where it will take you, or what the end result will be, just do it.