Sharon Sunoo didn't start playing golf until she met her husband in her mid twenties; "it was a fun thing to do together."  But what to wear?  Wanting to look chic on the links, Sharon wasn't finding the clothes in golf shops.  Culling from other stores like Gap, Banana Republic and J Crew, she created her own golf look.  Her golfer girlfriends always wanted to know where she got her stylish golf outfits.  So how do you go from compliments to a clothing line?
Busy with her 10 year old son and 8 year old daughter and organizing local charity events was not giving Sharon the feeling of accomplishment that she craved.  She had left a job in finance when her first child was born and was ready for something new now that her kids were in school all day.  She thought, "I'm going nuts and need a project."  Next came a trip to the city to visit with a friend in fashion who runs a showroom for several clothing lines.  The two friends brainstormed and thought, "combine golf and clothes."  Sharon was fortunate to be connected with someone she calls a "sister by another mother," Teress Stephens.  Teress had the technical knowledge of producing and selling a line of clothes.  They met, shopped together and discovered they had the same style and business sensibilities.  Sharon found that creating a business plan was necessary, executing it was the hard part.  But she says, working on the project gave her the happiness she had been craving.  Countless hours of research on the competition proved to her that a chic golf line for women was a need not being met.
With no fashion experience, there were many naysayers, but finding a partner with the background she lacked, made all the difference.  Her husband Ed was supportive and thrilled to see his wife build a business and find her groove again.  Self-funded, the first line was produced and taken to stores and golf clubs.  Birdy and Grace (Grace is her daughter's name) was well received – women golfers loved the style, quality and comfort and orders poured in.  "I love the classic look but I can also be slightly rebellious in taste. I am trend conscientious but never too trendy."  Sharon has created clothes that look great on the links and off.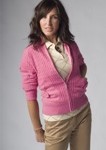 Exploring what she liked – golf and clothes, lead Sharon in the right direction.  She's passionate about her "baby" and loves having the flexibility to make her own schedule – and play nine holes in the middle of the week.  From a sun filled room in her home, Sharon manages a group of 8 sales reps located around the country, with sales growing significantly in the four short years since inception.  Teress manages the manufacturing end of the business.  What's next for the clothing line with the motto, "Take Flight"? (another play on golf terms) Sharon is not ready to sell and is looking at possible joint ventures with bigger brands.  "I'm very surprised that despite the amount of work, I still love it. It's so much fun to take an idea and see that it actually might work."  So for now, Sharon finds her happiness building her brand and sporting her own clothes out on the greens.
Contact:  sunoo@optonline.net, www.birdyandgrace.com
VentureMom Tip
Build a venture by combining what you like with what you like to do. Find a partner with the experience you may be lacking.