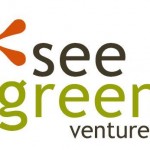 With a mission to produce a school auction without creating landfill, See Green Ventures was born. Three moms of elementary school children successfully threw a fabulous green party. Questions came in about how they did it and could they consult; from that a business was born. With 6 kids ranging from ages 3 – 10 between them, Lisa Sakay, Lisa Ewing, and Erin Nelson know how to juggle their time. Working mostly late at night, early in the morning or while the kids are at school, the green event planning company took shape.
Helping people and organizations produce green events is not only a business, it is a value to the three women who started the consulting and planning company. The goal of the company is to work with clients to product events that create zero landfill and leave a minimal carbon footprint. There motto is "more party, less stuff!" The team will meet the client at a level of greeness that works for the client, while providing advice on how to deliver a climate friendly event. Whether they are planning the whole event or acting as the consultant on an event, the philosophy is to produce less waste while delivering a great time and fabulous esthetic.
Some ways they are achieving their goals are to minimize paper by doing electronic invitations and registration, and by having catalogues downloadable as PDFs to iPhones and other smart phones. They also print programs on seed paper — treeless paper with embedded wildflower seeds — party goers can take the programs home and plant! While striving for zero landfill, that means the team evaluates everything being used to be sure it can either be composted or recycled. They say "of course, the obvious — organic, seasonal, and local food whenever possible and no plastic water bottles ever!"
What they feel makes them unique, is that they take stock of what an organization may already have on hand for use in decorations or overall event design. For example: for a silent auction/brunch for the Northwest Girlchoir, they discovered that the client had reams and reams of sheet music, which they cut into stars and hung on all the chairs. They also shredded more sheet music for packaging auction items. The See Green Ventures largest event so far was the school auction that brought the moms together: 435 attendees, online + two silents + live auction — all without anything in the landfill! The team is working on an event now that will just about rival that one: 300-400 attendees, 20-25 vendors/sponsors, a non-profit give back and a fashion show!
With 20 years in design, Lisa Ewing has uses her creative talents to provide the design element for clients. Multiple projects and awards for her work, Lisa is perfect for the design end of the firm. As a legislative aide to a US Senator, a Peace Corps Volunteer, and teacher of anthropology, Erin has been pulling together large scale projects and events for years. Lisa is the numbers geek and thrives on the details. Coming from a corporate background as an accountant and human resource manager, Lisa now devotes her time to streamlining operations for See Green Ventures and makes sure events go off with the efficiency of a Swiss Watch. Located in Seattle, the team is finding themselves quite busy as corporations rush to provide events that are green. Contact them through their website, www.seegreenventures.com
VentureMom Tip Create a venture around a value you believe in.