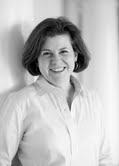 Sometimes life makes you come to a complete stop and you have to hit "reset." Nina Weld had always loved drawing and was a perpetual doodler but she never dreamed she could take make a living with her passion. Her early career years were spent in marketing and raising two kids at the same time, but then her arthritis became a crisis that she had to manage. Resetting her priorities, she decided to focus on things that bring energy and happiness.
Drawing was an amazing gift that she possessed and she realized the happiness she derived from her creative side. Working to put this piece back in her life, Nina took a painting class. "I found I was more confident and comfortable in this world." So when her children's school needed an illustration for the Spring Fair, Nina volunteered. Creating a simple black and white sketch, the feedback was nothing but positive. "A door opened when I focused on happiness and put my goal of being an illustrator out in the universe."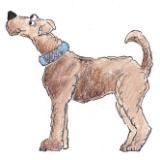 Then something heartbreaking brought her work to the forefront. A close friend lost a child. "She would talk about what her son might be doing in heaven." This mom decided a book about her son's activities in heaven would help her family heal and maybe others too. When the friend asked Nina to do the drawings for the book, Nina said, "I was filled with self doubt and imagined myself in a raincoat standing in mud puddles."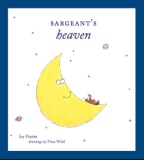 But Nina took a leap of faith and did the drawings for Sargeant's Heaven, which became a fund raising vehicle for grieving children. The proceeds from the book go directly to a group that offers counseling. Sargeant's Heaven was such a moving tribute that it was even picked up and covered on the NBC news . "I never took a drawing class, I just drew. I was so honored to be a part of this special project."
Nina's renewed focus was taking her forward. She was asked to do more and more illustrations for events and invitations. Then she came up with a very cool gift using her talent – a Life Story – a large drawing that includes things that have been special in a person's life. "I meet with family members to get stories, hobbies, trips, events and memories that have been important to the honoree. Then it takes hours to put together the board." Recipients have been overwhelmed by these boards, seeing their lives recreated in a drawing. A perfect gift for birthdays.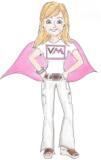 "My work has evolved as I've evolved. I try to stay focused on creating positive energy in my life." With a new web site to showcase her work, the energy can only grow. And Nina was chosen as the VentureMom.com illustrator in the Cartoon Contest run last year. Her illustrations, like these, (I love the one of me) will be see throughout the VentureMom site. Her work makes everyone smile so I'm sure the sun she draws will be shining down on her, keeping the rain puddles away.
Contact: nweld@optonline.net, www.ninaweld.com
VentureMom Tip
When life makes you hit "reset" look at what gives you positive energy.