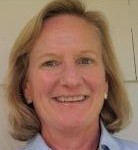 How do you translate a previous career in Investment Banking to part time, now that you have three kids and need balance in your life? That's what Mary Bloomer faced when she began thinking about the next chapter of her professional life. She has three children (13, 15 and 15), who's increasing independence give her full days to devote to a new venture.  On a whim she looked at her business school Alma Mater's job postings and saw something that interested her.  Well, ok, it was a full time position in New Haven, an hour away, without the flexibility she was looking for.  Not imagining she would have a chance, she sent in a resume and cover letter. Being very candid with the employer when she got the call to come in, she said, "This is my first interview and I've been out of the work force for 10 years and I need flexible hours."
The position was in the Career Development Office at the Yale School of Management, advising MBA students and alumni on their career plans.  Mary felt the interview was the worst interview of her life – comical given that she was interviewing to advise others how to interview.  She was extremely nervous and kept losing her train of thought.  She said to herself, "There is no way I'm going to get this job."  She couldn't believe when they offered her the position.
Mary was a veteran of Wall Street and had the real world experience the career development team was looking for.  One caveat, they wanted her to commit to full time with the understanding that flexibility would come in later.  She accepted and was now "all in" and had to very quickly set up the infrastructure at home to manage her three kids and dogs while she was gone from 8 to 7 Monday through Friday.
It wasn't a financially compelling opportunity after hiring several hands to keep the household operating, look after and drive her kids and walk her dogs, but she was excited about the chance to learn something new.  Also, it wasn't about the pay, as she loved the work and got a great senses of accomplishment seeing students succeed with her assistance Mary found she was good at leading these new graduates in the right direction.  She also found she liked being able to compartmentalize work and home.
But it soon became clear that the flexibility that she was looking for would not evolve particularly when the summer arrived and her kids were out of school  So Mary left the position with great experience and a new passion for helping young people entering the work force.  She continued to act as an advisor to many of the students she had worked with, well into the fall on a pro-bono basis.  This gave her an idea.  "Why not start my own career counseling service, so I can create the flexibility I need in my life."

With all of her counseling students landing jobs even in this difficult environment, Mary felt well qualified starting her company, Early Career Launch LLC.  She contracted with two other colleagues she had worked with at Yale to create a team with advising experience as well as practical experience across a wide range of sectors including financial services, consulting, health care, marketing, government and real estate.
In addition to Early Career Launch's ongoing career counseling services, the firm offers a jumpstart program during Christmas break. Mary works with students to define what areas they are interested in, research opportunities, develop polished resumes, prepare cover letters, and hone interview skills. "With even the sharpest kid, I find areas to add value.  On a personal level, I feel very lucky to have found something so rewarding and something that gives me the ability to be independent." Mary feels that by putting herself back in the workforce in a new area, she's been able to incorporate her past experience into her current life, and create a new venture for herself at the same time.
Contact:  mary@earlycareerlaunch.com
VentureMom Tip
Put yourself out there in a position that will allow you to garner necessary skills that can be useful when you decide to create your own venture and work to incorporate your past experiences into your new opportunity.