Who knew Vintage could lead to a Venture?  Marie Moss and Barri Leiner became friends while working in New York, Marie in the magazine world and Barri in PR and production.  Their husbands' jobs took them to Chicago and their love of vintage took them to the flea markets every Saturday morning.  They would leave their families sleeping so they could explore the stalls and booths of the area antique shows together.  They loved finding heirloom treasures to reinvent for use in today's lifestyle.  This showed in their decorating, home accessories and favorite jewelry.  A notebook became their companion as they catalogued their weekend forays into the many venues that Chicago, Wisconsin and Indiana offered.  Friends took notice and wanted their help in creating this wonderful heirloom look so Marie and Barri decided to write a book.
Their first book, Flea Market Fidos, covering canine collectables, just needed a publisher.  Striking out with a several agents and publishers, Marie and Barri had to get creative.  They prepared a proposal in a vintage craft box tied with bakery string, which included photos reflecting the design spirit of the book.  With a car service and a list of publishers, they knocked on doors and the book got noticed by a top editor at a major publishing house.  Marie says, "It just took one person to know what we were about.This publisher got us, she knew who we were." A division of Harry N. Abrams, took them on and a series of books celebrating their love of vintage was planned.  The second book published was Flea Market Baby, all things vintage to decorate a child's room and celebrate baby the old fashioned way. The books were a hit and you would think that was their venture, but their Venture Path took a turn.
At book signings, customers admired the authors' vintage charm bracelets.  Comments and compliments overflowed and at dinner one night the two women looked at each other and said, maybe we have something here.  Collecting vintage charms and trinkets, the women loved to make meaningful charm bracelets for themselves, friends and family.  They call them "wearable scrapbooks" and "instant heirlooms." M&B VINTAGE was born.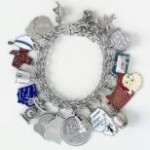 The women started buying charms and bracelets at auction.  Working on a shoestring budget, they figured if they failed, it would just be a fun adventure.  The first test was in 2003 when they had a trunk show at a trendy Chicago boutique. "We didn't even have time to get a glass of water, we were busy all day." The trunk show succeeded beyond their expectations, and the business essentially grew organically from there.  They now have a large inventory of vintage charms, sterling silver and gold, and work with clients at trunk shows, via phone calls, emails and personal appointments.  Marie has a daughter, 9, and Barri has 2 girls, 14 and 6 and their girls love to help with the business, which now includes M&B SOUVENIR, vintage reproduction pieces including hand-cut monograms and hand-engraved signet rings.  They work individually with clients to create one-of-a-kind vintage charm bracelets, which can require a lot of back-and-forth of ideas and inspirations.  And while they prefer working this way with their vintage charm bracelets, they are planning an e-commerce addition to their website so customers can shop 24/7.
It's been 7 years, but we still enjoy every minute of heading out on the road for trunk shows and working with customers to create pieces they'll love for a lifetime.  With some of the savviest girls wearing M&B including first lady, Michelle Obama and Oscar nominee Abigail Breslin (Little Miss Sunshine) — their  idea has grown so quickly they had had to put their next book project on hold until this year.  Marie is in Westchester County and Barri is still in Chicago, but the friendship and business continue to grow.
Contact:www.mandbvintage.com,  mandbvintage@mandbvintage.com
VentureMom Tip
Find your help from someone who "gets you" and your venture.
PS  Another turn in their Venture Path, being Jersey girls themselves, they now have a book in the works called Jersey Girls, The Fierce and The Fabulous. It is a celebration of amazing women from the Garden State, including women like Olympia Dukakis, Bebe Neuwirth, Bobbi Brown and Dionne Warwick.  In stores now.