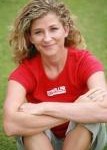 When her neighbor asked her to join a baby playgroup, she answered, "What's a baby playgroup?" Lisa Druxman had been in the fitness industry for a decade teaching classes and offering personal training. She was managing a large health club when she had her first baby and took maternity leave.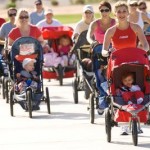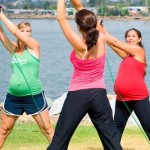 Lisa says, "I didn't want to go back to work full time, but how could I blend my passion for fitness with motherhood?" Strolling with her baby one day she decided to create a stroller based exercise class. and emailed friends and neighbors with babies. "My main goal was to connect with other new moms and entertain my baby and exercise all at the same time. " Talk about multi tasking. "All moms need a place to connect. The class is like support group exercise."
Within that first week of classes, she knew her format was something moms wanted. In her managerial position at the health club, she had often been asked to provide on-air fitness content to the local news station. But when they called and asked her to show up at 6 am the next day, she said, "What will I talk about?" The producer said to come up with something around fitness.
Thinking about her fun new stroller exercise classes and play groups, she decided to talk about what she was now calling Stroller Strides. On the show, she announced a grand opening of her business and asked moms to meet her at a specific location in the park the next week. Over forty moms and two news crews showed up.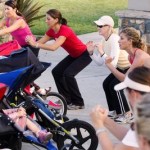 Within three months, moms from around the country were emailing and calling asking, "How can I get into a class?" and "How can I teach a class?" Moms talk to moms. Lisa realized she could franchise her idea. Reinvesting everything Stroller Strides was bringing in, she found a legal team to help.
Within the first year, Lisa had trained over twenty instructors and was offering classes in twelve different locations in her home town of San Diego and growing her base elsewhere around the country. There was no overhead as clients met instructors at local spots. On line clients could sign waivers and pay for classes. What a simple business concept. Lisa herself was teaching 2 classes a day, six days a week.

Her first corporate employee was in 2001 and she grew to add 17 more over the years since then. "At one point, 12 people had a key to my house. One day I looked around at a team meeting where it was so crowded someone was sitting on my daughter's rocking chair and someone was sitting on my son's car bed. I knew it was time to get an office." During the building phase over the last 12 years, there have been long days, "As my business had grown so have my children."
Her franchisees get an exclusive territory, training, supplies, and a web site from which to offer classes. "I feel like the most blessed woman to be able to have my own company and work with my kids. I love what I'm doing and I wanted to share that with others."
Learning everything she could on prenatal, pregnancy and post natal health, Lisa became an expert in her field. A month ago Lisa got some extra time. Fit4Mom hired its first Chief Operating Officer, the first male employee. Lisa is now free to focus on media, speaking and writing another book. Her first one came out in 2005, L.E.A.N. Mommy. The overall company Fit4Mom offers not only the original Stroller Strides class but also, Fit4 Baby prenatal classes and Body Back classes for fitness at any stage of motherhood. So something that started as a baby playgroup, "What's that?" turned into a huge venture for Lisa.
Shanae Briggs offers classes in Fairfield County, CT. Contact: shanaeb@fit4mom.com
Contact: lisa@fit4mom.com, www.fit4mom.com
VentureMom Tip
Keep it simple – a simple name and a simple concept that you can scale.