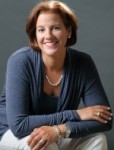 When she was in grade school, her Dad's secretary was the coolest person around. "She could type really fast and had the best supplies – paperclips, staplers, pencils and folders." With this memory it is only natural that Laurie Noel Meek's venture years later is in office supplies.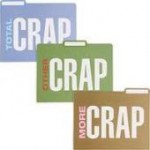 One of her first jobs was for a computer company where, of course, the highlight of her day was ordering the office supplies. She left this job to raise her kids, but after color-coding and reorganizing her own home office several times over, she wanted to branch out to reorganizing other people's offices and paper work. So off to Staples for supplies where in the binder aisle, she struck up a conversation with another shopper about an organized office. That shopper became her first client. "I'm from Texas, I talk to everyone. I ended up helping her organize her office, pay her bills, and keep her

paperwork in check."
For the next 8 years, Laurie had the perfect job as a mom, working 10-15 hours a week for 2 -3 clients making her own schedule. But Laurie's love of office supplies soon bubbled up again. "With my work, I found so many great things to use in a small office." Thinking of when she was younger and she equated office supplies to candy, why not call her curated collection , Office Candy. "I squealed when I came up with the name."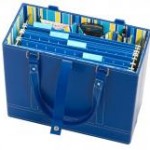 Because Laurie was all about the small office, she began to blog about how to get and stay organized using her suggested items that were in her on line shop. This was a great help with sales. "So now I not only clean up offices, I give advice and have products to make the office work in a fashionable way." From file folders, to pens, Laurie's' obsession became her business. How did she get clients, "Believe it or not, direct mail post cards brought in most of my new organizational customers who then bought my supplies."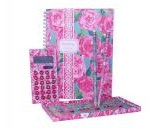 Office Candy is an ecommerce site with Laurie's garage acting as her warehouse. "My best seller is the leather file tote available in various colors and patent leather. (and in the VentureMom Shop.) I stock almost everything and distribute myself. Another favorite are the folders that say 'Total Crap'. " She has found a whole sub culture of office supply fanatics just like herself. One day Laurie would like to create her own line of supplies. "My secret goal is to knock Martha Stewart out of Staples." When asked if technology will make her venture obsolete, "There will always be paperwork and a need to organize and store it."
Using Social Media, Laurie runs virtual organizing boot camps to help her audience get it together with cute names like, Hunt for an Organized October. "I send out an assignment to the group at 6 am every morning." With tips on Facebook , photos on Pinterest, and ideas on Twitter, Laurie's Office Candy can help everyone get organized.
Contact: www.officecandy.com, laurie@officecandy.com
VentureMom Tip
Build a business around your obsession.