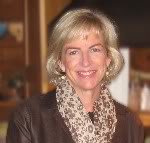 Pots and pans for a college graduation gift, kept Laurie Bakke in the kitchen doing what she loves -cooking.  After meeting her husband in Colorado and spending time in Chicago, came a move back to her home town in North Carolina with twins, a boy and a girl, in the early 1990s.  In between mommy duty, Laurie started to create her own recipes and epicurean delights.
After attending a local culinary program , Laurie accepted an internship in the kitchen of the Highland Lake Inn Restaurant. The owners of the inn developed a huge kitchen garden to infuse the Inn's restaurant with the freshest ingredients. "I loved it," Laurie says. "Their way and my way just melded. We did some amazing things." Vegetables, herbs, and edible flowers from the Inn's large organic garden inspired dishes that Laurie loves to make.  Spearheading the inn's lunch business, ordering for the kitchen, and working on brunches, eventually led to Laurie's appointment as executive sous chef.
In 2002, Laurie decided she had the experience to open her own restaurant, Cafe Laurie, and it was an immediate success.Serving fresh salads, sandwiches and her inspired dishes brought the locals in for lunch and dinner.  Creating her own recipes allowed Laurie to showcase her style of cooking.  Laurie says, "It's why I'm into cooking because there are infinite possibilities.  We had the creative freedom to come up with all kinds of great stuff– with the best quality ingredients."  Growing 15 varieties of herbs and edible flowers in her own garden, allows Laurie to gather items from right outside her back door.  When Cafe Laurie was open, customers begged for the salad, dressing, brownie and pecan square recipes.  These were closely guarded in those days.  Her twins helped run the restaurant so it was truly a family business.  When the twins graduated from high school, she decided it was time to close Cafe Laurie to have more time for family.  She remained involved with her passion through a cooking blog and consulting on recipes and menus for local restaurants.  And then came the book.
Recipes of Cafe Laurie's most popular dishes are included in the new cookbook. Among them: Mediterranean Orzo Salad, her Shrimp Quesadilla, her signature Laurie Burger and an assortment of fresh chicken salads. Her own personal favorite, included in the book, is Grilled Yellowfin Tuna Steak with Oriental Coleslaw and Wasabi Mayonnaise.  Deciding which recipes to include in the cookbook was tough, Laurie says. "It was really hard to keep it small, the basil, mint, and sherry vinaigrette, a Cafe staple, is the cookbook's first recipe.

Friend Brenda Fuqua helped design the book in a scrapbook format that's so unique it could be displayed on a coffee table. On the cover and inside, hand-stitched layers and glued components like ribbon and patterned paper give the book a one-of-a-kind feel.  This good friend assisted Laurie in the design and implementation of production as did her husband Paul, so it's truly been a collaborative effort.  Laurie has parlayed her love of cooking and the set of pots and pans into a reputation as one of the finest chefs in town.
Contact:  lauriebakke@gmail.comBehind the Scenes from Cafe Laurie sells for $60
VentureMom Tip
Listen to what your fans want.