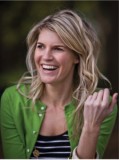 If you've ever tried to change a baby girl's diaper while she's wearing a wet bathing suit, you know it's not easy. That's what Kimberly Goodwin was doing when she realized there was a need for bathing suits with snaps. That way moms could easily change a diaper. With no formal fashion background, Kim had worked in marketing and creative services for Lucky magazine. However while there, she had constant contact with fashion people in production and manufacturing.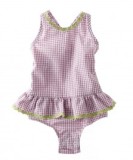 After a maternity leave of three months, she was lucky enough to go back to work part time with Lucky Magazine three days a week. So on the other two days, she started doing some research. "When I told my sister, who was a Fashion Design major in college, what I wanted to do, she said I was crazy. But once I got started, I knew I couldn't turn back."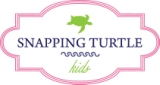 Kim spent six months creating her brand. This included naming her company, crafting a logo and web site, and choosing fabrics and patterns. "I thought about how shoppers would find me with a google search and I figured moms would remember the snapping part and find me with my name, Snapping Turtle Kids."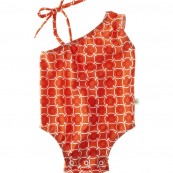 Kim sourced five fabrics and designed two suit styles for ages 3 months and up to 3T. Now she had a decision to make. Wanting to focus all her time on her new Snapping Turtle Kids swimsuits, she left the magazine job and worked freelance but her heart was now in her new venture. Hitting the streets of the fashion district, Kim found a production company that offered the kind of quality she required. "Production cost a bit more, but when retailers hear that they are made in the US, they understand. It makes a difference and consumers care that my line is made here."
Self funding her venture, she was able to order 50-100 pieces of each design. Now what? "I decided to go big and get a booth at the ENK Childrenswear Show in October of 2011." It was a three day commitment so her mom came in to help. "My friends said I'd be lucky to get a couple of business cards at the show…..I sold out of almost all of my swimsuits and got orders from six retailers in upscale markets for December."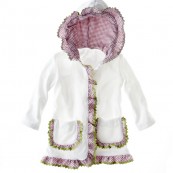 Immediately launching her web site with e-commerce, buyers could now shop for suits and the hats and cover ups that Kim had added to the line. Social media took her to the next level. Reaching out to mommy bloggers, she was covered nationally and successfully handled the PR and marketing herself. Her basement and extra bedroom in her apartment became her stockroom and office and sales exploded.
With this growth, an office five minutes away became more practical. Now she needed some help. Kim found two interns from FIT, the fashion school in New York. One intern was majoring in the business side of fashion and one was majoring in childrenswear – both a perfect fit. "They help out 3 days a week which has been a lifesaver, but majority of the time, it's all me."
Kim puts a personal handwritten note in each order. "Some customers are shocked but I want them to know how much I appreciate their order, especially since I'm a new company. " This personal touch has helped her grow from 5 to 25 stores in 6 months and she often asks herself, "What did I get myself into?" She now has a 7 week old boy in addition to the inspiration for the swimsuit with snaps, her 2 year old daughter.
"I get to be at home and I have great flexibility, but I'm always working even if it's thinking about ways to grow my company." With requests to expand her line up to size 6 and into boys suits, she is on her way.
Contact: kgoodwin@snappingturtlekids.com
VentureMom Tip
Necessity is the mother of inventions invented by moms.