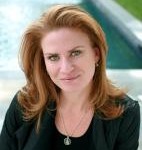 One day, Jessica found herself wandering aimlessly around the supermarket, and came to the realization that she was desperate to go back to work.  Leaving her 80 hour a week job as an attorney to raise her two boys, who were now in school all day, she had time on her hands.  Jessica remembers, I was full of self doubt that any of my skills were malleable into a career outside the law and too scared to find out.  "I spent a lot of time wishing someone would offer me a job.  They didn't."  She says she had a new business idea every minute but always found a reason not to move forward.  She was afraid to fail. Her enormously supportive husband finally said to her, "Stop telling me all the reasons you will lose, you are not even in the game."  (She knew he was right.)
Jessica began her search by looking at things that were important to her.  Both her parents were very involved philanthropists and she wanted to follow their lead.  She also loved jewelry whether simple leather bracelets or sterling silver.  Five miles into a hike with a friend who was a loss at what to buy for 6 boys on her holiday shopping list, Jessica offered to create something she'd been thinking about.  That night she designed her first school crest bracelet and it was an instant hit.  Realizing she had something unique that could be useful too, Jessica spent time building relationships with area schools asking for feedback on design and pricing.  Her school crests quickly became the hot vehicle for local school fund raising campaigns.  Within 3 months she was creating school crest items for many of the schools on the east coast. The jewel in her crown came when Jessica's new line was featured in the book True Prep, the sequel to The Official Preppy Handbook by Lisa Birnbach.
As it turned out, the women who assisted in school fund raising, were also involved in various organizations and looked to Jessica to design specific jewelry for philanthropic events. Finding traction here, she became the go to girl for local charities searching for fund raising items and gifts.  "I've learned about so many cool organizations through my business."  Each of her pieces comes with a tag explaining the associated charity. "Talking with these women and involved moms who have their own incredible jobs and life experiences, I've gotten great advice for my company." Not only that, a meaningful discussion around world issues with a group of women, lead to the hiring of the company's first sales rep.  Jessica has created special pieces for hundreds of charities locally and beyond. I'm excited to have the opportunity to connect to people in the world I would never meet otherwise."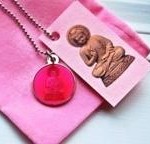 Combining philanthropy and jewelry felt right to her. One of Jessica's creations for her growing company, Jewelry for a Cause, was The Blue Buddha necklace, where a portion of the proceeds was sent to Doctors Without Borders Haiti Mission.  The Blue Buddha is the headline piece for the Talisman line which is designed for retail donations, supports various causes and is sold in over 50 stores across the US. Giving something that supports a cause, she believes, gives more meaning to the gift and makes both parties feel good.  The motto for Jewelry for a Cause became, "Jewelry that sparkles with good intentions."
Jessica doesn't find much time to wander aimlessly in the supermarket any more, and she couldn't be happier.  She had created something new and inventive that would sell in the current economic and social environment.  How about marketing? "When you have Maria Shriver wearing one of your necklaces on stage with Michelle Obama you realize you don't need PR." Placement is everything and it seems that by combining charity and jewelry, Jessica is in the right place.
Contact:  Jessica@jewelryforacause.net
VentureMom Tip
Find a way to get in the game by filling a need and be open to ideas and suggestions from various sources, including those organizations or individuals who will be your clients.