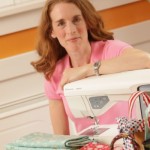 On the day her daughter went to kindergarten, she knew she had to quit her job. Jennifer St. Jean had a big job on Wall Street but when she thought about all she would miss with her girls, then 5 and 1, she left to be a stay at home mom. While that kept her busy she didn't like to be idle and had a self professed Type A personality. After about a month, she started her own business.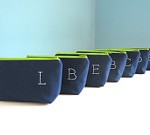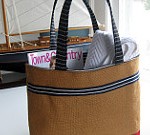 Always a seamstress, she had learned her skills as a child from her mom. Jen decided to make bridesmaids bags for a friend's wedding. The bags were just big enough to hold a phone and a lip gloss – they were itty bitty. Posting her creation on her Facebook page to share, she got requests for the itty bitty bags from friends, and a business was born.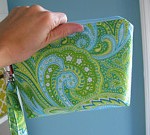 Jen opened a bank account and an LLC and named her company after her bag, The Itty Bitty Bag Company. She used Etsy, the marketplace for handmade products, as her on line store. That was in April of 2009 and she hasn't looked back. As per the Etsy mantra that all products be handmade and nothing manufacture or mass produced, Jen makes all of her bags herself, even hand stitching the monograms.
Now she offers more than just the Bridesmaids' bag, even though, Jen says, "Custom bridal orders are the biggest component of my business." Jen will work with customers to choose the lining, the fabric, and the monogram to suit their tastes. The Itty Bitty Bag Company carries totes and bags in all shapes, sizes and colors. One of the most popular bags is what she calls the "mom bag." "It's perfect for a day planner and I-pad or lap top."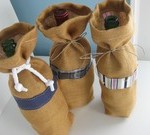 Most of her sales come through Etsy although you can find her bags in specialty stores. "I like knowing where all of my bags go. When I place my bags in a boutique, I don't meet the buyer of my creation. I lose the connection when I give my bags to someone else to sell."
Using social media to promote her business, Jen says relationships and marketing take up 50% of her time. With an active blog, Facebook page, and Twitter feed, Jen is out there with her social side. Thinking about the future, Jen may get help with manufacturing for boutiques, but for now she's happy with the size of her business and her time commitment. Does she make what she did on Wall Street, "Not even close, but salary isn't everything and there are many other benefits."
What's the best part? Jen says, " I haven't given up me and I get to be a big part of my girls' lives. It's an amazing feeling that , what I put into my business, I get out of it. "
Contact: jen@ittybittybag.com, www.ittybittybag.com
Use the coupon code "venturemom" when you shop on Jen's site.
VentureMom Tip
Put your creation on Facebook and see what feedback comes your way.