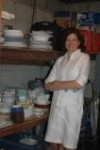 Her father's favorite phrase, 'Fasta fa Zool' a play on the Italian soup, pasta e fagiole gave Janet King a name for her venture. To her father it meant a 'little bit of this and a little bit of that'. And that's what Janet sells on eBay. Seven years ago she left a fabulous job as a Director of Member Services for Western Athletic Clubs in the San Francisco area, and moved to CT for her husband's work. With some free time and a sister in Ohio who had an attic full of unwanted treasures, the two decided to sell these things on eBay. At this point Janet didn't even know how to get a digital photo on to her computer.
Teaching herself with her sister's loot, Janet was hooked. A web class gave her more insight and she was on her way. Janet specializes in vintage, china, crystal and collectibles. Many people peruse eBay looking to replace items like the Wedgewood tea pot they broke or to find another 6 Noritake plates for an upcoming Christening. Many buyers are looking to add to their collections of things like the Royal Doulton figurines or antique tin toys. She also thinks that Hollywood set designers use eBay to find vintage items. These are the things that Janet looks for at tag sales, thrift shops, and flea markets. Where ever she goes, she'll buy items she hopes to resell. Janet's most famous find was a Cartier belt she bought for $1 at a tag sale. She sold that belt for $1,800 on eBay.

With a basement lined with blue bins filled with these finds, Janet spends her time photographing the treasures and creating the detailed descriptions that will go in her eBay store Fasta fa Zool (www.stores.ebay.com/fastafazool). So busy, she's hired an assistant to help her – another mom looking for flexible hours. She loves getting a phone call from a client who wants to clean out the dining room or basement stocked with a little bit of everything. She won't consign items, preferring to pay a seller up front so the things are then hers to sell. She also spends time researching the value of pieces that she finds, a fun part of her day. Summer is her high season with many families moving. Since the economy got weak, she sees clients hoping to sell wedding gifts like full sets of china or Waterford crystal that are not often used in today's lifestyle.
Janet believes that even if she had a full time job she could do this part time, but it's a full time job to her. She also feels it's a learning experience for her two boys, ages 17 and 14 who help with the business. And her husband helps with repairs when necessary. Setting daily, weekly and monthly goals keeps her moving forward and hitting her target salary. This is the first time she's been her own boss and she says it's the hardest she's ever worked.
Loving the green side of her business, Janet searches for used boxes and packing peanuts to ship her items. She may even be ready to hire more help; that's how busy she is. And she's taught several friends, other local moms, how to sell on eBay. Janet may teach a 3 hour course through a local continuing-ed program so she can share her knowledge of online sales. With lots of treasures available to change hands, there can never be too many sellers on eBay.
Contact: ffzoolgoods@yahoo.com
VentureMom Tip
To get the salary you want, take a hobby and make it a job.