Here's a story – Four nannies met in New York City and became fast friends, Wendi, Hannah, Amy, Mary. They called themselves WHAM. A few years, marriages, and jobs later, Wendi had a baby and Amy, who made her own fashionista clothing, made her a baby mat. Hannah who was now a wall street trader loved the mat and said to Amy, you could sell those. Amy said I don't know anything about running a business, and Hannah said I don't know anything about sewing. Wendi encouraged them and they got started, but needed a name. The fourth friend, Mary, told her father when she was young, "My name is not Mary Frances, it's just plain Mary," hence the name Plain Mary. Four girls, kind of like the Sex and the City girls, still friends, support each other's ventures and have a fun trip to an exotic local once a year to celebrate their successes.

The Kensington Baby Play Mat was embroidered with names, monograms and animal outlines and given to friends, who then wanted them for their new mom friends. With a 90% reorder rate, Amy was the seamstress and Hannah with kids of her own now, was the marketer. Mats in tow, sometimes kids, the two women visited stores in town and got a few orders. Their big break came a year into their venture in 2005, when they walked into the posh baby store in Los Angeles, called Petit Tresor. The proprietress would barely talk with them until they pulled out the mat. This store owner was sold and ordered several mats on the spot. The coveted baby mat is hand sewn quilted micro suede, doesn't bunch up with baby's activity, and is a great place for baby tummy time.
Celebrity moms shopped at this store and loved the mat; Plain Mary was on its way. Hannah and Amy were even asked to have gift suites for celebrities at the Golden Globes and Emmys. Through many emails, store visits and phone calls, Hannah and Amy now have their line in over 120 stores worldwide including Saks and up until January, Amy was still making the mat. They now have a seamstress but orders have increased dramatically this year and they have found a manufacture who can deliver the quality they require and the quantity they need.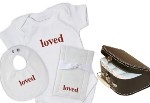 With over 40 products in their luxury, must-have baby line, Hannah manages much of the distribution from her attic playroom with her two kids, ages 5 and 3, playing in front of her. She used to feel guilty leaving the trading desk for a child's appointment; now managing her own business, she's able to feel good about putting her kids first. She says, "It's the ultimate success, and the perfect blend."
Contact: www.PlainMary.com, Hannah@plainmary.com
VentureMom Tip
Take your product to the street.