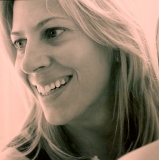 When she couldn't find the birthday invitations she wanted for her son's party – she created her own. Gretchen Davis was an equity trader for 8 years before leaving to stay at home with her children. Necessity being the mother of all invention and in this case creation, led her to her venture. Friends loved the self created invitations and asked Gretchen to do theirs too. And she did.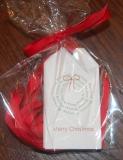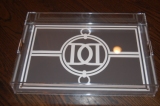 Next came Christmas cards. Gretchen had a style in mind but couldn't find it. Creating her own flat card with a mounted photo, she was true to her distinctive style. Again, friends loved them and asked Gretchen to create their cards for them. She was definitely in business now. "Each card is hand done; I'm a perfectionist," says Gretchen, "so I only do ten sets of cards a year." In such demand, she has had a waiting list for holiday cards for two years. "For me, it's more about the creative side than the money."
Then Gretchen ventured into note cards, hand drawing the icons appearing at the top of each set. She draws the whales, trucks, ice cream cones and graphic emblems herself. Gretchen's first drawing was when she was 16 and it was a topiary tree, it graces one set of her note cards. "At the time I never thought I'd use drawing to make a living."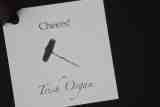 When asked about the end of the handwritten note, Gretchen says, "I started my business at the height of digital communication, but I want to keep the old-school handwritten note alive." She teaches her kids, ages 4, 6, and 8 to write notes by hand. "What kid doesn't like to get mail?" Believing that there is nothing better than a handwritten thank-you, much of Gretchen's stationary if made for kids.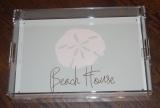 Monograms are a big request from clients and she has brought family in to help. "When someone wants a custom design, my sister in Chicago, also a mom, does that piece of the request."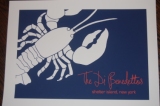 Expanding her line to wine tags, stickers and notepads, her acrylic trays are a client favorite. Creating her own design for the trays, the bottom adheres with magnets and the real bonus is the custom designed inserts. Gretchen offers five different designs that include the client's name or monogram. "These make great gifts." There are two sizes available, large for drinks or appetizers and a small version for keys or other small items.
Outfitting an extra bedroom at home as her office, this is command central for Gretchen's creations. "I can work while the kids are in the playroom or napping, it's great. " You can find her work in a few boutiques and now in the VentureMom Shop – very exciting.
Contact: gretchendavis@optonline.net Be sure to mention VentureMom to get your 10% discount.
VentureMom Tip
Offer your design to friends and family first and grow from there.