27 Sep

Featured VentureMoms – Lisa Dale and Kristen Grace – StyleDrum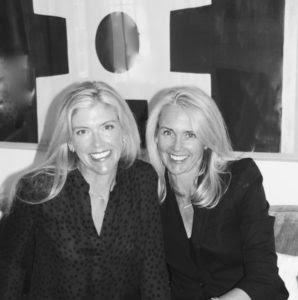 How did two sisters take their advice to each other about fashion forward clothing and turn it into a blog? Lisa Dale once worked on the advertising campaign for Duracell Batteries and then got involved with Classic Sports Network as one of their first employees. Kristen Grace first was an Art Director designing and styling advertising for Macy's and then went on to art directing for House and Garden. But while these two twenty somethings lived in Manhattan, their love of shopping was born.
"Kristen once saw a men's pair of pants at a thrift shop and had to have them. Since we couldn't find anything like them, we had a seamstress make them for us." When friends saw these pants, they wanted them too. Naturally, the two sisters decided to start a fashion line in their spare time.
Lisa and Kristen had samples made and hit the streets during lunch breaks. They actually got interest from Barneys and Bergdorfs. "But when the stores gave us orders, we didn't have a manufacturer in place or funding. It was really cool but we were too chicken to quit our day jobs. Hmmm, what we know now…."
Fast forward to when these two left their jobs and Manhattan for the suburbs of CT and Long Island to raise their kids. "We're best friends and talk every day about new fashion trends or a new piece of clothing or a bag that we found online or in a store. We are each other's fashion advisors and love to share ideas." One day the two women decided they should take their favorite finds and styling ideas and share them with others. "Friends would ask us, 'Where'd you get that?' and it just made sense to share it on a blog."
Lisa and Kristen sat down in Lisa's kitchen and spent hours working to come up with a name. They would think of something, check the domain availability, toss what didn't work and keep what they liked. "We hit upon StyleDrum and it wasn't taken. Our tag line would be, 'We Got the Beat.'" The sisters used that for a while until Lisa's son said, "That sounds beat." Lisa says, "It did have a throwback feeling of the GoGos from the 1980s. We changed it to 'Don't Miss a Beat' and think that conveys a sense of urgency to shop for the item we're featuring."
Now on to the technology. "We set up most us our website ourselves and had a bit of outside help from a friend's friend. But it's fairly easy to learn to use an online service like WordPress." What does StyleDrum blog about? Lisa and Kristen cover all price points and give their readers a link to purchase. "We like to showcase trendy things from lower-end stores, classic investment pieces from designers, and everything in between."
The sisters feel their blog offers a "shortcut to style" by streamlining the shopping process.
Monetizing their blog will come through affiliate sales. "We're seeing our audience grow as we post more and more, but it's a process to grow our tribe. We plan to add blogs on travel and décor." The women may do a StyleDrum Street piece, where flowers can send in photos of themselves wearing a suggested item – that would be fun.


How do they feel about their venture? Lisa says, "I'm a type A person and Kristen is extremely creative, so starting StyleDrum has been a way to pool our resources. It's been really fun and we're learning so much of the current technology at the same time." They also like that their children, seven between the two ages 11 though 19, get to see what their mothers have created in their (very little) spare time.
VentureMom Tip
Start a blog to share your ideas.
Great News!!!! StyleDrum will be guest blogging for VentureMom from time to time.
Sign up at StyleDrum.com so you Don't Miss a Beat.