She never thought she'd be an entrepreneur but her mom reminded her that when she was 7, she made her own jewelry and sold it in consignment stores. Katie now has two young daughters who have become the inspiration behind her creative ventures. "I started out in the business world but didn't like the opportunities available to me, so I taught myself web design started my own design studio. I realized I could use my technical skills and artistic abilities to create my own niche."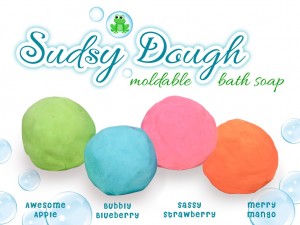 When her first child was born, Katie found that she would need to transition away from contract work and into a business that fit her busy mom lifestyle. She and her husband Andy, were at a coffee shop when they saw an applesauce pouch and thought, "We should create a reusable food pouch." They saw the need for an Eco-friendly product for baby food. "When I get an idea, I have to see it through. I went home and worked to make a prototype that I could send to a product development company."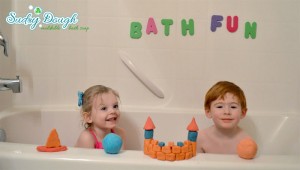 After several rounds of samples, Yummi Pouch was born and the couple began large scale production feeling confident that sales would follow. Katie served as the Creative Director and Andy was in charge of getting the pouch placed in retail stores and on line. The Yummi Pouches did sell and as they grew they added other mealtime accessories to their product line for young families.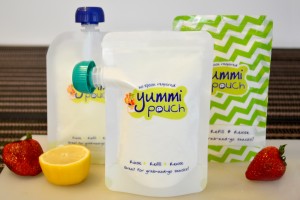 Their next light bulb moment came during bath time. Katie's daughter was not a fan of taking baths and an idea came into focus to make bath time more fun – Sudsy Dough – moldable soap that doubles as a bath toy and a cleanser at the same time.
Starting in her kitchen, Kathryn worked to refine a recipe that could be used in the bath and would dry into the shapes that children molded. Once she had her recipe perfected, she approached a company that could manufacture her idea. "I loved using my creative side to name, package and brand new products. Each product we design is directly meeting a need in our own life." Katie is on the way to introducing Sudsy Dough to the masses of parents looking to make bath time fun for kids. With a three year old and a six month old, the Wallaces are the perfect patrons of things that other young families need.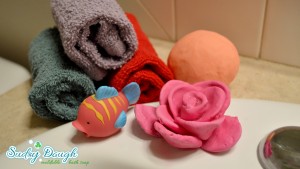 To help promote her products, Katie developed a blog called Mommy Scene. It was initially started to showcase her own products but she quickly found that other brands needed the same exposure. She recruited others and now she and her team of mom contributors review family focused products, share ideas, tips and life experiences, and host the Green Scene Mom Awards. More than 100 brands submitted products for the 2014 awards, several of which were later featured on Shark Tank. With thousands of followers, Katie's blog is sharing innovative ideas with fellow moms everywhere including her own – Yummi Pouches and Sudsy Dough.