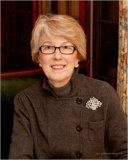 Do you ever witness a friend's venture and you just know that's what you're supposed to do too? That's what happened with Ethel-Anne Roome. A friend of hers was working towards her certification from The Grief Recovery Institute and needed volunteer participants. When Ethel-Anne took the course it changed the course of her life.
She had been an elementary school teacher for years but Ethel-Anne always felt there w as something else she was supposed to do. She attended the 4 day intensive class at the institute in Los Angeles where they have trained thousands of instructors over the past 25 years. She put in her hours to become certified and began to offer the course. But what is a grief recovery course, exactly?
Ethel-Anne says people try so many things to heal from a loss. Things like keeping busy, waiting for time to heal the wound, replacing the loss with someone or something else and a multitude of other things, only to realize nothing is working. Whether it's the loss of a person, a marriage, a job, child custody, a career, or something else, the a grief recovery program helps the person address that pain.
"I walk you through the pain and grief of a loss, to recovery and relief," she says. Meeting one on one or in a small group of 4 – 8 people, Ethel-Anne is trained by the institute to help her participants progress through a 12 week program. Her goal is to help you to move on with your life. "There are all kinds of losses. It could be the loss of a person, a life-style, having your kids at home. I deal with any loss that is debilitating and affecting your life in a negative way. Regardless of the kind of loss, the process I take my clients through is the same," Ethel-Anne says.
The process is an introspective series of exercises designed to relieve you from the pain you are feeling. With different assignments each week, Ethel-Anne helps clients move away from avoidance to acceptance. "My goal is not to help people forget but rather to help them heal. We work towards completion, not closure."
She says, "We don't compare, analyze, advise or judge. I'm not a doctor or therapist. I'm there to facilitate the healing process." Given that everyone in this world will experience a loss at some point, it's good to know there is a lifeline if needed, a program to turn to, if our loss is too great to handle on our own.
With a 90% success rate, Ethel-Anne says her program is a tough sell. "People don't want to deal with the pain and are hoping it will just go away. Pain can be frightening to face." But as one attendee put it, after completing the program, "I feel like I have crawled onto dry land after being tossed for months by stormy seas." Many critics ask how it works. Ethel-Anne says, "It's a process that one must complete in order to understand and reap the benefits."

The founder of the program, John James, lost an infant and could find nothing to heal his broken heart. After much introspection, research and determination, he developed the Grief Recovery Method to help himself and now thousands of others.
Ethel-Anne loves what she does. "It's an unbelievable experience for me; people come to me because they are suffering. Over the course of the program, I see their grief turn to relief."
Contact: ethel-anne@griefrecoverystartshere.com, www.griefrecoverystartshere.com
VentureMom Tip
Develop your venture around something that everyone can use.