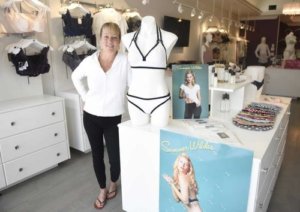 SHOP COLLECTION
As a larger-cup-sized woman, she couldn't find a luxury bra that fit right. This led Erin Wildes Walker to a business idea. After working for print magazines for years this idea gave her the courage to go for the change in her life that she'd been wanting. "If I couldn't find the right bra, I figured others were having the same problem."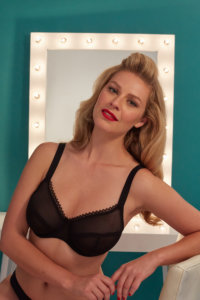 But how to start. Erin found a class (yes there's a class) in bra development at the Fashion Institute of Technology, FIT, in New York. "It was the perfect place to learn how to develop a prototype for the bra I wanted to offer." Erin was in a space she knew nothing about. "I sold advertising to fashion companies but creating a fashion product was another story." Her teacher was instrumental in guiding her through the entire process.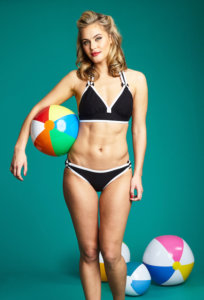 Now Erin needed a name and a brand. There was a persona that she had in mind who she called Summer. "I thought of her as fresh-faced, a little retro, with a pin-up figure, but classy — an all-American girl, but with style and personality of her own. I dubbed her "Summer Wildes", combining the season that seemed to typify her virtues with my own middle name." That became the name of her new line. Erin even went so far as to find an artist who drew the kind of women she had in mind and hired him to draw her brand's avatar.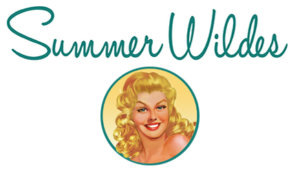 Her first product, she dubbed the Summerland Bra. "It was truly a labor of love to create. Great fit, mesh fabric, fancy trim, and just the right amount of sexiness."
As a child Erin grew up in Ohio but spent lots of time on the Florida beaches with her mother. She wants the line to evoke that nostalgic feeling of the terry cloth robes and towels she remembers being wrapped in after a swim. The character of Summer Wildes guides the brand and gives the shopper that great carefree feeling of being at the beach.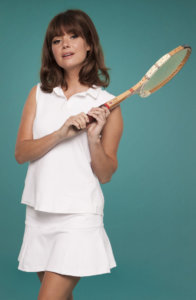 By chance at a dinner party, Erin sat next to a man with experience in the garment industry. She shared her start-up story and he was so intrigued and impressed, he not only invested in her company, but he also became a mentor of sorts. "It was so fortuitous to meet someone who had a base of knowledge that I could draw from."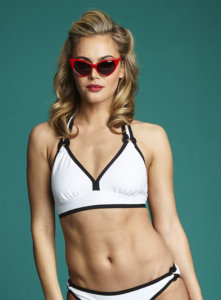 Now that she had a name, a logo and a bra design, she was ready to pull the trigger. "It was scary to place the order for my first run. I was leaving an established career to become an entrepreneur." Erin sourced all of her materials in the US and her manufacturer was found right in New York. "It's important to me and to my brand to be made in the US."
Next step – sales. Erin set up her website for on line sales and immediately got her first sale. To build brand awareness she hosted several trunk shows for friends and family. "I started collecting names for my data base and began a newsletter."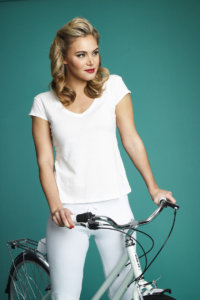 Summer Wildes can be found at several high-end boutiques like Inside the Armoire in Greenwich, CT. "I just walked in with my product and asked them to carry it." She doesn't see her line at big box stores, "It's a unique brand for the discerning shopper." Swimwear, lounge wear, leggings and cover ups were a natural extension to bras and panties. The bikinis (I love!) are made of soft, plush French cotton/Lycra terry, with a halter-style top and eco-friendly horn rings. Expanding to spa shops and hotel boutiques may be her next step.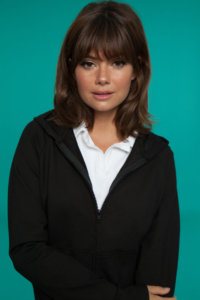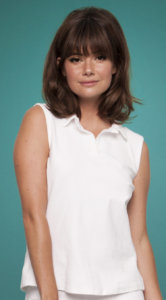 "I was ready to reinvent myself," Erin says, "It's still so new and I'm excited to see where I can go with this. I'm proud of myself that I had an idea and figured out how to bring it to fruition."
VentureMom Tip
Find a class specifically in what you want to do.