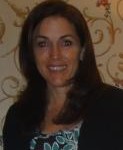 This is not your Grandmother's decoupage.  Never dreaming she would ever do decoupage and frankly not even knowing how to do it, Debra was asked to help with a teacher's gift.  The class mother wanted to adorn a rocking chair in some meaningful way.  Debra had a thought.  She had kept her children's book jackets from the time they were babies and wanted to somehow use them for the gift.  She researched how to do decoupage and decided to blanket the chair in the covers of the books, many the classroom kids had read throughout the year.  The compliments from the rocking chair inspired Debra to decoupage a frame as a gift for a college friend's birthday with a meaningful quote.  Reconnecting after 15 years, the friend reminded Debra of her passion for art and graphic design, her true passion. Seeing the finished product, the friend suggested, "You could sell these."  From there Debra says, "I started making frames like crazy thinking of that line from the sappy baseball movie Field of Dreams if I make these, customers will come."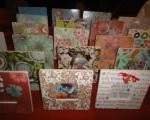 Word of mouth took over.  She was asked to make 20 unique frames to be given as party favors for a 40th birthday party.  Each one was unique and other mothers wanted Debra to do things for them – bathroom stools, frames, small chairs, breakfast trays. She was asked to make frames with baby names, special quotes and matching room décor.  Always having a love of papers, Debra had a large assortment of designs – wrapping papers, wall papers, maps, brochures, greeting cards – anything that caught her eye.  Her husband even began to bring papers back from trips overseas, things that she could use for her growing line of decoupage items.
Teaching herself, decoupage uses a special kind of glue and varnish to adhere paper to a surface.  Debra works all over her house, wherever she can find space.  With two elves, her children ages 8 and 5 like to get involved.  She lets them help with painting and cutting and they enjoy seeing a plain wooden frame become something special.  She's now doing items for baby showers, bridal events, birthdays, and party favors.  Her major in design and art was less involved with her previous job leasing commercial jets, than it is now with her new venture.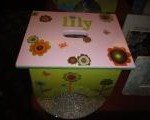 Displaying her work at her first craft fair, netted Debra an order from a local store in Stamford.  Kaleidoscope is carrying her baby frames and asked her to create some items for tweens.  Thinking this was just a hobby, the order gave her the validation she was looking for to realize she may have a real business.  "I knew I could take it to the next level."  Reaching out to other local stores and a website are next.  Motivated by the VentureMom story on Jessica Mindich's, Jewelry for a Cause, Debra is making a frame that will generate donations for the Smile Train – a charity her family has been involved with for several years.  She says, "I loving doing this, it gives me energy.  It's exciting to have something to build on."  Clearly taking an old art and making it current is leading the way.
Contact: decoupagebydebra@yahoo.com
VentureMom Tip
Put your product out in the marketplace in some way and see what happens.