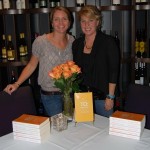 Blog Moms – Carolyn Dingman and Darcy Mayers
Who knew that a response to a blog post would lead to a book and a meaningful friendship?  That's exactly what happened when two moms started responding to each other's posts and emailing each other outside of their blogs.  Darcy Mayers and Carolyn Dingman each had begun blogs about motherhood:  PostPicketFence.com and CarolynOnline.com. Dealing with everyday life, the essays on line cover: motherhood, marriage, ill-fitting jeans, ill-fitting in-laws, booze, and the ever persistent nagging question "what now?"  The blogs themselves are fulfilling ventures for both moms and allow Darcy and Carolyn to vent and share the often hilarious, sometimes embarrassing and many times meaningful stories of their lives with their kids and husbands.  From diapers to tricycles their 5 kids now range from 6 to 10 years old.  (Having teenagers myself, I can't wait to see what they write when their kids reach that challenging stage.)  Three years ago, when Darcy's kids were 3, 5 and 7 and Carolyn's kids were 6 and 7 they began sharing their motherhood stories on line through the blog world.
Finding each other online, through blog responses, the two moms created a modern pen-pal relationship.  They say they have reinvented the coffee klatch with WiFi and are working to create a portrait of 21st century womanhood shared through their blogs.  Taking it one step further, the women decided to publish their correspondence, which consists of the barely edited emails between these moms who live thousands of miles apart. In fact they published their book prior to ever meeting.  TO:  A TRUE STORY IN LETTERS is made up of their blog posts and emails over the course of several years. Carolyn calls the book, "an unapologetic comedy of errors and a BYOB virtual house party rolled into one mix-tape for the eyeballs."
Bogging fits a mom's lifestyle perfectly, you can write anytime you have a free moment. Carolyn owned a small company that produced construction documents and Darcy worked at a record company called Midnight Feeding.  All this fun came to an end when both women had kids and decided to stay at home.  They needed an outlet to share their triumphs and agonies; blogging came to the rescue.  No training needed, as Darcy says, "this is pretty much an OJT(on the job training) kind of thing."  The moms' goal is to get to Oprah within a year with the book.
Both women feel that aside from the lifelong friendship that they now have, they have preserved a slice of their lives to look back on and maybe share with their children.  It has inspired Carolyn to write a novel – a dare from Darcy.  Darcy feels that the experience has been nothing but awesome.
Blogging is made easy through multiple blog providers on line, like blogspot.com.  The trick is to get a following of people to read your blog and then to get enough followers to sell advertising if you want to create an income.  But many feel that sharing their stories is enough fulfillment.  Creating a book has been a fantastic way to promote the blog.  Darcy has done multiple house parties for women where she reads exerts from the book and sells copies.  Having heard her read from the book, and with a few cocktails, I can attest that this makes for a fun night.  Through a self publisher, blurb.com, copies are printed on demand and the publisher takes a cut.  Blurb.com also acts as an on-demand book-seller.  They want to share the book with women who understand their point of view because so often moms feel isolated in their struggles of raising children.  Moms are responding, and loving the book.
In their words, "The authors don't have a vendetta against the standards of conventional book formatting, nor do they have a blood feud with spell check, but yeah, they do things a little differently. Like write five bajillion emails and never once pick up the phone. And decide to um…publish them?"  It's a fun read.
Contact:  Darcy Mayers, iamdarcy@verizon.net, www.postpicketfence.com
Carolyn Dingman, www.carolynonline.com
VentureMom Tip
Look at something you've already done and recreate it in a new form to move your venture forward.